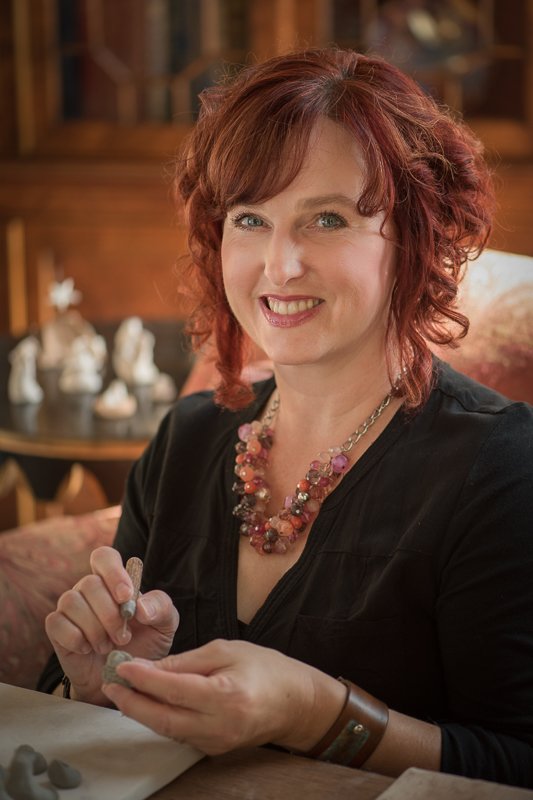 I love the vitality, the process of hope that art brings to my life and recognize that creativity is truly a Divine gift and a blessing. After many years of creating and teaching, I was hit by a car in March 2013, suffering a traumatic brain injury and damage to my right shoulder that prevented me from doing much of anything. I drifted and struggled to find my balance as I recovered but had no urge to create anything beautiful or joyful as the clouds of depression darkened my vision and poisoned my soul. My faith suffered as I grieved the loss of my identity which was torn away by someone else's conscious choice.
Working with clay is a metaphor of life for me. Every fingerprint I leave reminds me of the fragility, resiliency and promise of something beautiful in the future. As you get up close and intimate with the small pieces, notice those fingerprints, cracks and imperfections. It is what makes every piece unique. It is what makes us unique. We are pinched, molded, stretched, flattened and purified in the fire until our lives become what He has destined for us. The final product will be a truly worthy creation.
Everyone has a journey through life uniquely his or her own, a private drive. Mine resembles a path through the woods, sometimes rocky and rough, obscured by fallen trees and snaring brambles. At certain times, a shaft of light penetrates the gloom or I break out into a field of beautiful wildflowers and feel the warmth of hope and peace and perhaps, the presence of an angel. Pause and take comfort in those moments and then forge on.
-Katherine
"Then Jesus again spoke to them saying, I am the Light of the world; he who follows Me will not walk in the darkness, but will have the Light of life."
John 8:12